Larry has lived in Chelmsford since 1986. With little formal training, Larry's playing style can best be described as "unorthodox". Equipped with a very early Farfisa organ, he survived the underground rock years of the late sixties/early seventies as one half of "TWO" – playing support to the likes of URIAH HEEP, OSIBISA, COLOSSEUM, and even SLADE (what a racket!) Later, as the front man of GALILEO, Larry embraced the folk music scene – even attempting the Uillean Pipes! Now, some years older, and returning to his original passion of Jazz, Larry has become a popular and influential performer on the local Jazz scene, and led his own band – em@il special, originally formed in the late 90s with son Erez Berkovitz, Rowan Ward and Sam Bullard on Saxes, Scott Nicol on Bass and Tim Clapp on drums.
em@il special performed for over 12 years until 2011. With an enviable reputation, the band amassed a strong following enchanting concert audiences at home (in Chelmsford) and in Southend, Bury St Edmunds, London's VORTEX Jazz Bar, Knightsbridge's much lamented prestigious PIZZA ON THE PARK, etc
Larry directed the repertoire and the musical arrangements for em@il special   throughout collaborating originally with Sam Bullard and later with Zak Barrett who joined em@il special in 2002 replacing Sam Bullard. In 2009, Jamie Castell replaced Erez on Saxes and Rob Levy replaced Scott Nicol on bass.
For many years em@il special performed sell-out annual seasons and hosted many guest vocalists and musicians to its stage. Guest performers over the years included:
Jo Hendricks 2000 – 2002
Yael Shotts 2003
Alicia Hart 2004 – 2006
Three For All (Jerry Thomas; Barry Ward; Joe Thomas) 2007 – 2008
Niamh McNally 2009
Mandy Bell 2010
Jacqui Hicks 2011
Apart from years at Pizza Expresses with Rowan Ward and others including Jeffery Wilson, Scott Brooker, Joe Thomas, Jamie Castell, etc. Larry has also appeared in many other formats including writing and performing "Jimmy's Groove" live with Tim Clapp and Rob Levy on the 2008 DVD "Jimmy Carr In Concert".
It was in 2004 that Larry first devised  a programme of XMAS"sy" JAZZ primarily as a vocal harmony set together with Joe Thomas and Jamie Castell which they performed for several years at various Pizza Expresses and other venues. As Joe & Jamie were both students at Cambridge at the time, the programme developed in a XMAS JAZZ theme firstly because Joe & Jamie were better available to perform during term breaks, especially when back home at Christmas … and secondly, because the songs (mostly written by Jewish composers) are such incredible fun!
In recent years, the XMAS JAZZ SPECIAL has grown. Zak Barrett together with various members of em@il special have joined the project and in 2016 a young Dominic Copestick joined the XMAS JAZZ SPECIAL. The original 3-part arrangements have been gradually reworked and expanded and now include instrument parts and horn backing arrangements. Continuing with the em@il special tradition of hosting special guests, Larry, Zak and the team have been delighted to  welcome three amazing talents to join their XMAS JAZZ SPECIAL stage:
Adam Mader – a brilliant maestro on a whole host of instruments and one of Israel's top musicians and session men
Andy Frost – not only a superb jazz drummer but also a very entertaining beatboxer (voice percussion)
Robert Rickenberg – a superb bass wizzo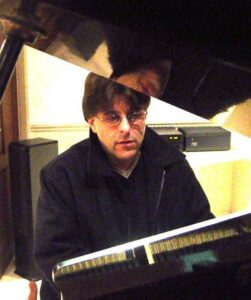 a very poor quality recording of a solo performance of "Shall We Dance?" at The Cramphorn in Chelmsford 2007