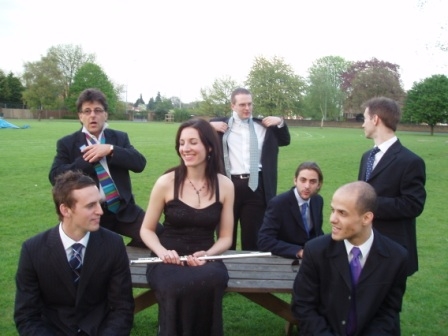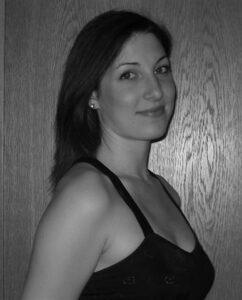 em@il special  
with
Alicia Hart  
2004-2006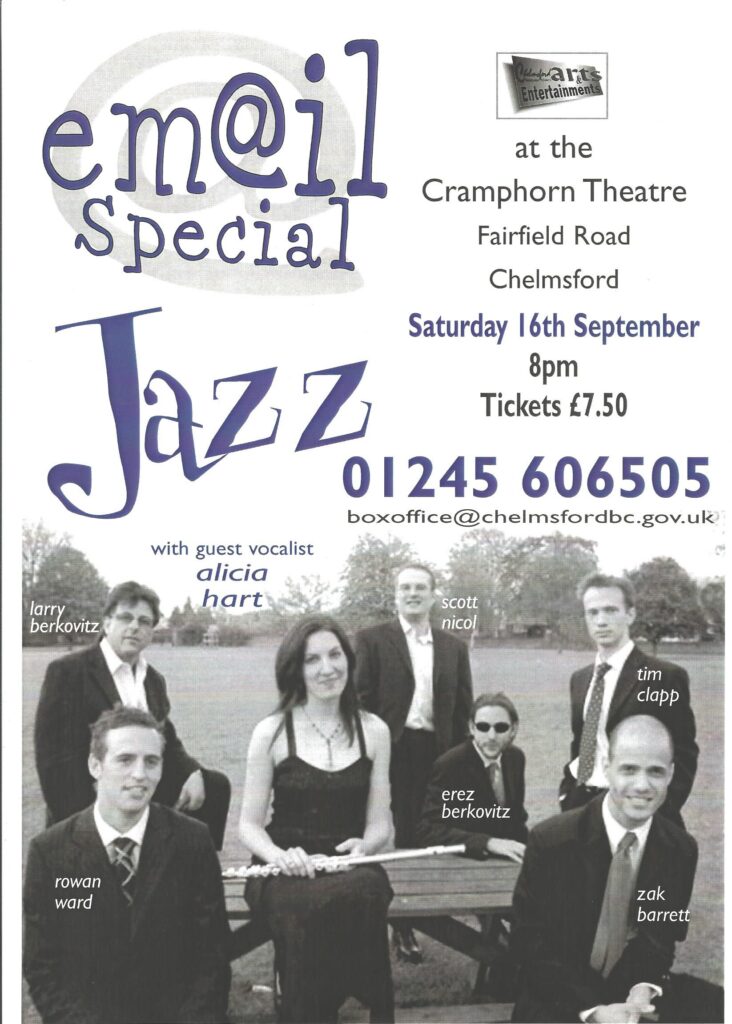 em@il special  –   the little band with the big band sound               
at:
The Cramphorn Theatre, Chelmsford, Saturday 18th Sept 2004 at 8.00 pm.
featuring our regular frontline of three "horns":
Erez Berkovitz, Rowan Ward and Zak Barrett and a new guest vocalist, Alicia Hart.
Ms Hart brings her own style and interpretation to some of our existing vocal arrangements in addition to which we shall also be premiering some new repertoire, arranged by em@il special specifically for Ms Hart. 
Beware ! These rare concerts regularly sell out so please book early to avoid disappointment !
Tickets for this year's concert on Sept 18th 2004 are already released and are on sale NOW ! 
Box Office (for enquiries and tickets): (01245) 606 505
Can't make Sept 18th at the Cramphorn? –
em@il special will also be appearing in concert on Friday September 10th 2004 at –
The Little Totham Music Festival, All Saints Parish Church, Little Totham, Essex
Details and Ticket Enquiries: (01621) 891660
Alicia Hart – Vocals / Flute
Born in London, Alicia has played flute since the age of 7 and performed as principal flautist at the age of 14! As a teenager, Alicia toured with the National Children's Wind Orchestra and with others playing major venues throughout Britain and across Europe, including the RFH, RAH and the Barbican. A graduate of London's Trinity College of Music, Alicia majored in classical flute under the guidance of Anna Noakes and Wissam Boustany, in addition to devoting much energy to her first love – jazz and, with the inspiration of Anton Browne, has developed a distinctive and engaging vocal style earning her the attention of jazz audiences across London and the South East and the coveted Rotary Club Musicianship Prize (2003)! With a keen interest in African and Cuban music, Alicia embraces a wide range of jazz styles and is currently recording her own compositions with Rainbow Productions.  With her fresh approach to Jazz, E-MAIL SPECIAL is delighted to welcome Alicia Hart as guest vocalist. A stunning performer, Alicia was with us for three seasons from 2004 to 2006 and we enjoyed every minute!
There is no video or high quality audio from these concerts, but …… just to give you an idea …… some rough recordings from the stage monitor feed can be found below: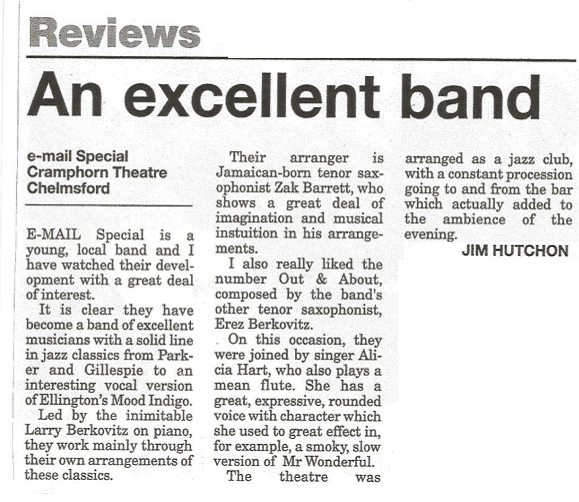 em@il special is
Larry Berkovitz (Piano/Vocals) Zak Barrett (saxes/clarinet) Rowan Ward (alto sax)
Erez Berkovitz (Tenor Sax) Scott Nicol (Bass) Tim Clapp (drums)
CRAMPHORN THEATRE
Fairfield Road CHELMSFORD CM1 1JG
01245 606505
Saturday 18th September 2004 @ 8pm
Saturday 17th September 2005 @ 8pm
Saturday 16th September 2006 @ 8pm