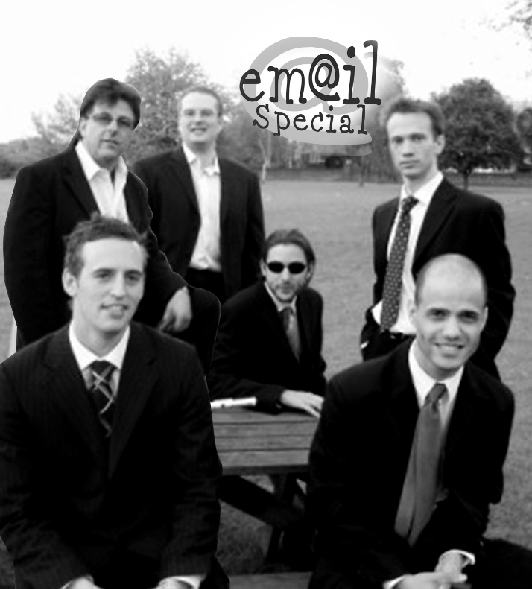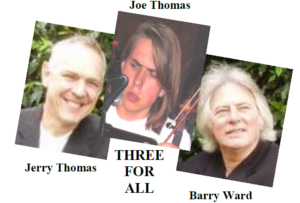 em@il special
with
Three For All
2007-2008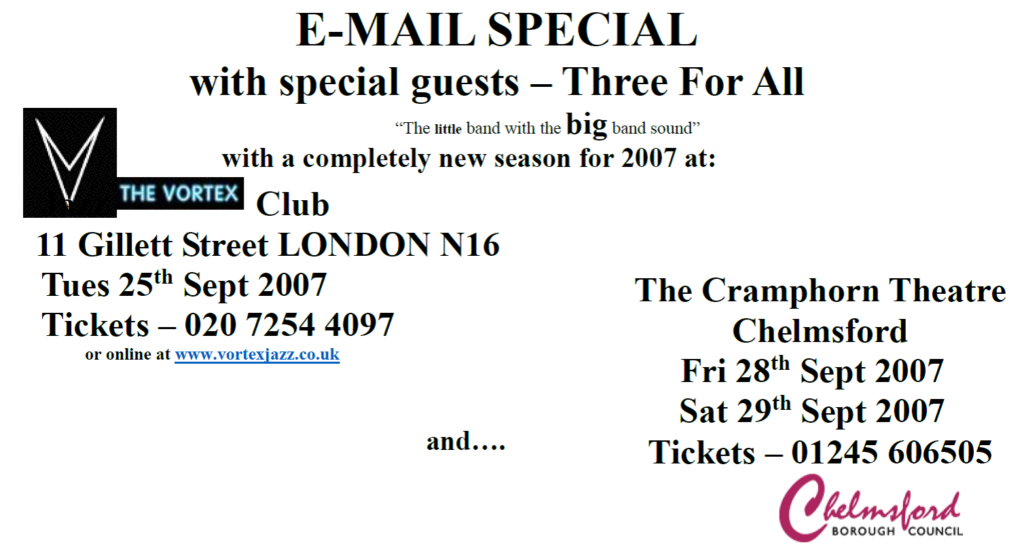 Danbury Village Hall
  Danbury Essex CM3 4NQ
   Sat 19th July 2008 – 8pm
  Ticketline and enquiries:
    01245 260288
Now in its tenth year, em@il special  returns to the Cramphorn stage by popular demand on Friday 28 & Saturday 29 September. Following numerous sold-out concerts, this little band with a big-band sound has earned an enviable reputation and commands a very strong following, enchanting jazz concert audiences at venues throughout Essex and Suffolk, at London's VORTEX Jazz Club and at the prestigious PIZZA ON THE PARK in Knightsbridge!
Continually adding to its repertoire, Email Special performs a wide mix of both instrumental and vocal jazz standards of many differing styles together with some examples of newer influences.
em@il special  regularly performs with various guests, in recent years featuring female vocalists. In a departure this year, however, the band welcomes Three For All – three male voices – in its most ambitious undertaking to date.
Three For All, an exciting 3-voice vocal harmony group, brings a new dimension to complement the now familiar 3-horn frontline of em@il special .
em@il special has always included founder members Larry Berkovitz and Erez Berkovitz, father and son, together on stage… BUT in another new twist for this year the line-up will include no fewer than three pairs of fathers and sons together on stage Apart from – Erez (tenor sax) and Larry (piano); this year's season will also include founder member Rowan Ward (alto sax) with father Barry Ward (vocal) and Joe Thomas (vocal / violin) with father Jerry Thomas (vocal), who says it doesn't run in the family!

The programme includes such favourites as Mack The Knife, In A Sentimental Mood, Shall We Dance, Bei Mir Bist Du Schon, A Night In Tunisia, Hit That Jive Jack and many many more…
em@il special is
Larry Berkovitz (Piano/Vocals) Zak Barrett (saxes/clarinet) Rowan Ward (alto sax)
Erez Berkovitz (Tenor Sax) Scott Nicol (Bass) Tim Clapp (drums)
THE VORTEX
11 Gillett Street LONDON N16
020 7254 4097
Tues 25th September 2007 @ 8pm
CRAMPHORN THEATRE
Fairfield Road CHELMSFORD CM1 1JG
01245 606505
Friday 28th September 2007 @ 8pm
Saturday 29th September 2007 @ 8pm
Danbury Village Hall
  DANBURY CM3 4NQ
    01245 260288
Saturday 19th July 2008 @ 8pm