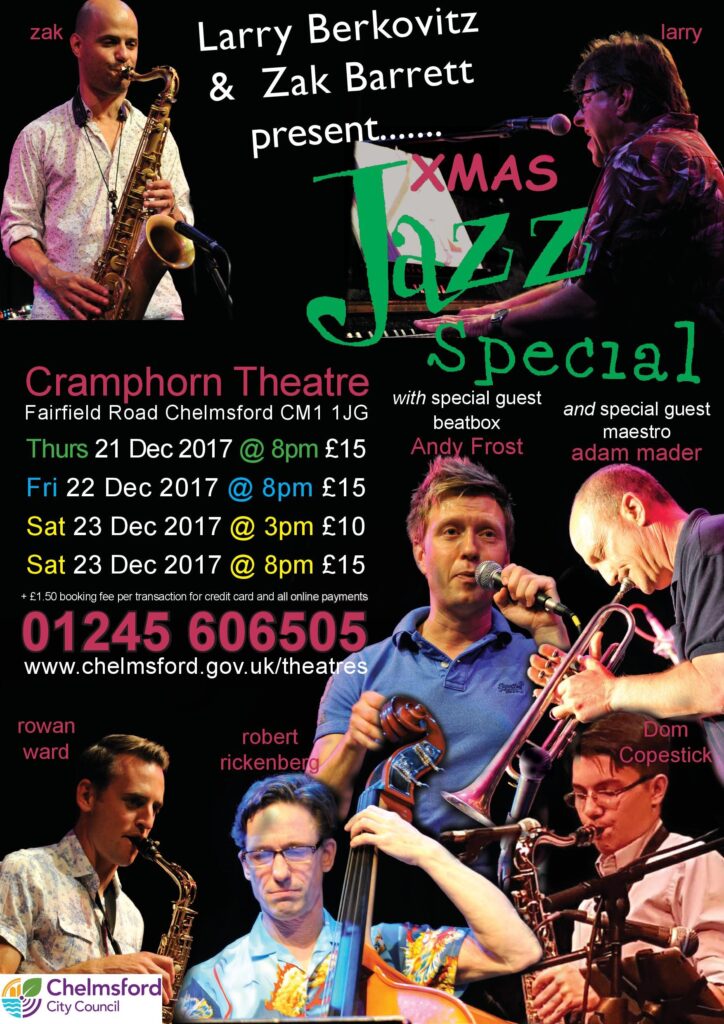 ….. here we go again ….
The hugely successful XMAS Jazz Specials have now been running for several years, with packed houses treated to stunning musicianship. Lots of fun on stage, the band is always greatly encouraged by the tremendous audience response.
Larry and Zak collaborated for many years arranging for and performing with
em@il special 
bringing fresh and unique arrangements
of jazz standards to enthusiastic audiences in Chelmsford, London and beyond and in recent years concentrating on the now legendary XMAS Jazz seasons. Don't miss the XMAS Jazz fun with all the regular mobsters including Adam Mader on everything and Andy Frost – the percussive mouth.
and a personal note from Larry:
we're back again with more XMAS Jazz and ridiculous jokes …. AND …. after last year's full house, we are really chuffed delighted that an additional date has now been added to this year's XMAS jazz season at our usual haunt – Chelmsford's intimate Cramphorn Theatre
guys … it's all down to you, our loyal audience … as a result of your huge support and encouragement over many years … we love you lots!
…. and now we need your support even more than ever 'cos we now need to sell (out?) a further night so … please bring everyman and his dog and come in your droves (or even in your cars?) (or sleighs?
Be sure not to miss this year's XMAS JAZZ special – please reserve your places early!
when It's Beginning To Look A Lot Like Christmas, come join the Winter Wonderland and … if Frosty Lets It Snow, it may even be a White one so get ready for a Sleigh Ride
Be sure not to miss this year's XMAS JAZZ special – please reserve your places early!
oodles of complimentary mince pies … AND … never any silly paper hats.
01245 606505