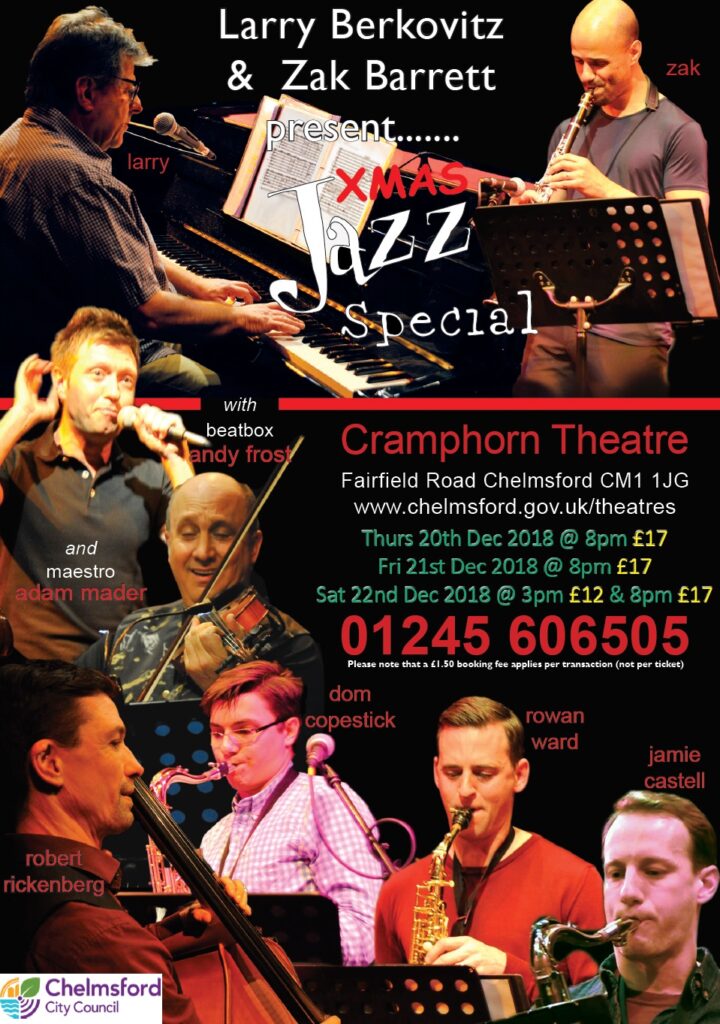 The Xmas Jazz Special season 2018
The XMAS Jazz Special returns!
with fun and antics on stage, the band is always encouraged by the tremendous audience response.
Larry and Zak collaborated for many years arranging and performing in
em@il special 
bringing fresh, unique arrangements of jazz standards to enthusiastic audiences in Chelmsford, London and beyond and … in recent years concentrating on the now legendary XMAS Jazz seasons.
Don't miss the XMAS Jazz fun with all the regular gangsters including Adam Mader on everything, Andy Frost on percussive mouth … AND … having now aged at a least a couple of years …. Dr Jamie Castell returns to the stage (assuming he doesn't lose his bus ticket)
and a personal note from Larry:
It's all thanks to you, our loyal audience … your huge support over many years … we love you lots!
and we're back again this year at our usual haunt – Chelmsford's intimate Cramphorn Theatre bringing you more XMAS Jazz, seasonal cheer, really silly good jokes … AND… oodles of complimentary kisses and mince pies !
So, getting into shape for Christmas? Why not try the 'Bitcoin diet'? I lost a thousand pounds in a day!
…. but seriously, we need your continued support to keep going even more than ever …
please bring everyman, his mother-in-law, and his dog 
no silly paper hats … we promise
01245 606505