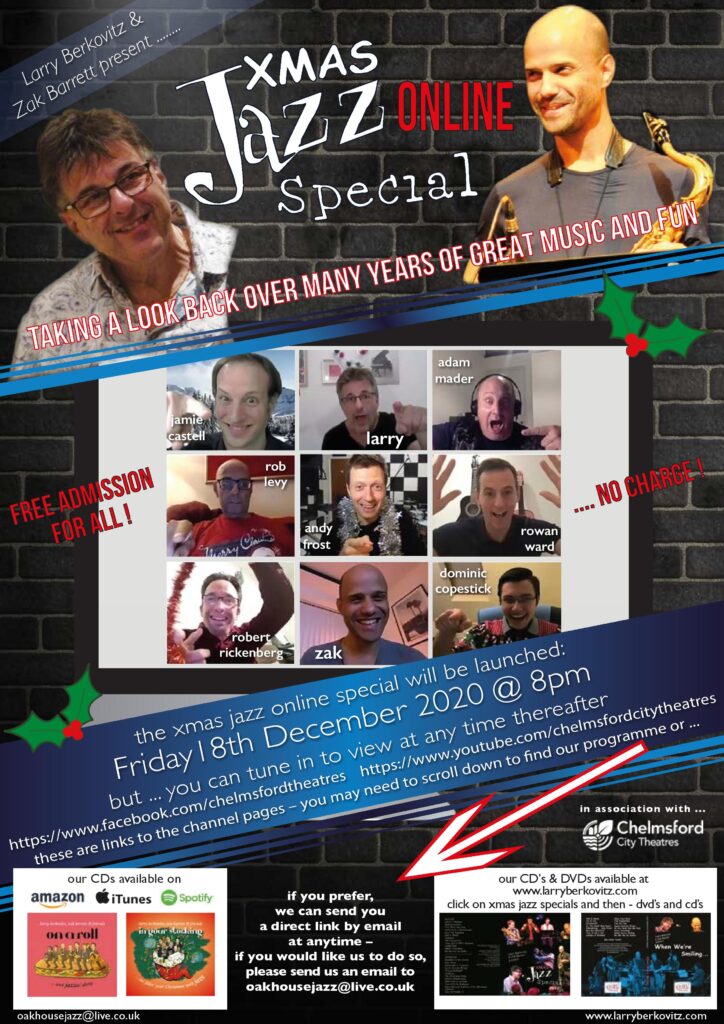 XMAS JAZZ SPECIAL ONLINE 2020
To all our dear friends and supporters …
we hope you are safe, well and behaving yourselves!
we miss you all lots!
when we last met – just before Christmas …
who would ever have imagined that the coming year would bring such colossal upheaval for us all –
the young … the not so young … everyone … worldwide!
After last year's completely sold out concerts, Larry and Zak had planned the usual return to the Xmas Jazz stage in 2020 with all the regular mob. Dates were set, work on musical arrangements had begun.
Everything was steaming ahead … but … with an ominous "gathering storm" building in the background
Then, in late summer, the elephant in the room finally awoke and unfortunately confirmed the obvious – that all our concerts (and travel) were to be cancelled … at least until March 2021.
But … on the assumption that Corona will finally leave us alone by then, the good news is that our XMAS Jazz Special 2021 has already been set for Thurs 16 to Sat 18 Dec 2021 !
…… and in the meanwhile …. we produced a
XMAS JAZZ SPECIAL 2020 ONLINE!
(see link above)
Our Xmas Jazz ONLINE Special 2020 is a COVID-era production – with all the constraints that today's reality throws up daily.
Live performance is the essence of our music and without the ability to be close to you, our loyal and supportive audience, we have had to face a harsh reality – months of no live music and no audiences. So, although nothing like the real thing, this is our first attempt at an online production.
It has certainly proved an interesting and challenging experience – not least with a production team spread over two different countries (!) and with most contributions filmed via mobile phones and/or via zoom …. and all with very differing levels of picture and sound quality.
But, within these constraints, we decided to complete a program that would be delivered free of charge and accessible to all our audience, particularly thinking of those who are isolated at home.

We hope you will appreciate … enjoy …. have a glass of wine … and … save me a mince pie? We can't wait to see everyone next year – when there'll be mince pies for all …. 7 each … !

Keep safe and enjoy a very Merry Christmas and a much better new year than this one was !
https://www.facebook.com/chelmsfordtheatres