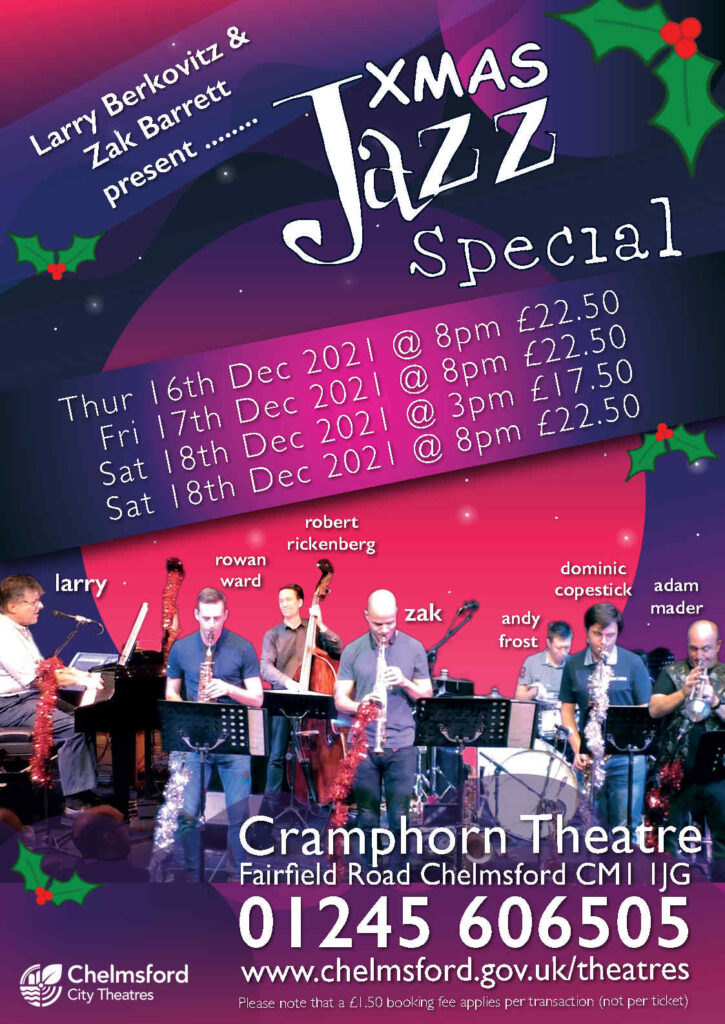 ….. after months of exile on the sofa in the front room ….
…..  and now finally bursting back to the stage … an unmissable XMAS Jazz Special!
Last year's season was presented online, but hey … Larry and Zak are returning this year to Chelmsford's intimate Cramphorn Theatre with the usual bunch of bananas maestros.
Tickets are on sale already so ….
do make sure you bag yours well in time to avoid disappointment and an early night at home. Previous years have sold out well in advance.
 Incredibly, your bargain price ticket also includes the pick of the crop ….
Rowan and Dom blowing,
Adam Mader on the kitchen sink,
Andy Frost on silly (but bloody amazing!) noises
… AND …
Robert Rickenberg slapping a huge piece of wood.
a note  from Larry –
after an "unusually quiet year" (!), our XMAS Jazz Special is back live this year at our usual hang-out – The Cramphorn Theatre Chelmsford – we'll be bringing you more XMAS Jazz, seasonal cheer, some pathetic great jokes +oodles of complimentary kisses and mince pies!
…. your continued support is greatly appreciated by my mortgagee … so ….
please bring everyman (and woman), his (and her) mother-in-law, and his (and her) dog 
no silly paper hats … we promise
01245 606505
www.chelmsford.gov.uk/theatres
…. to whet your appetite, last year's XMAS JAZZ 2020 ONLINE is still available here:
Xmas Jazz Special 2020 – YouTube
Chelmsford Theatres – Xmas Jazz Online Special 2020 | Facebook