Oops! diary clash with Santa!
Please note that due to a scheduling clash with the big man we've had to cancel the 7.30pm concert on Sunday 18th.

All other dates are going ahead as normal including the Sunday 18th Matinee.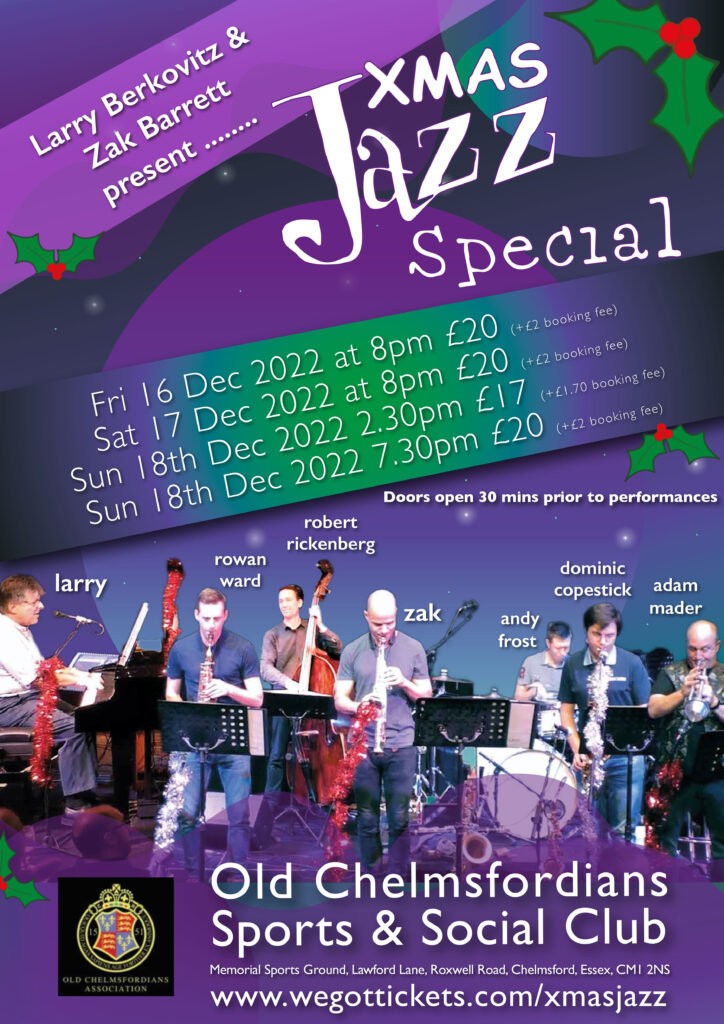 ….. after months of yes / no? yes/no? … the Cramphorn finally tearfully told us that in December they may still be in the midst of their exciting new refurbishment works and so, finding ourselves temporarily exiled, we have found a very welcoming alternative home for this year's XMAS JAZZ 2022 at the Old Chelmsfordians (they have no idea what they're letting themselves in for) … we would never have let a refurbishment programme come between you & us …. so …. we're going to be bursting on to a different stage for another unmissable XMAS Jazz Special … all the usual racket old favourites … get down and join us! see the flyer with details and how to get your tickets …
Our 2020 season was presented online direct to your living room, our 2021 season was without Adam who had to be abruptly FedEx'd from the steps of the stage and straight to the airport due to the sudden draconian Covid travel rules imposed last-minute but … for the 2022 season, Larry and Zak will be down at the Old Chelmsfordians joined by the usual bunch of drunks maestros.
Tickets are already on sale … the venue is smaller than the Cramphorn … so … as previous years have sold out in advance … do make sure to bag your tickets well in time to avoid disappointment …. and an early night at home.
Incredibly, your bargain price ticket also includes la crème de la creme ….
Rowan and Dom blowing noises, Adam Mader on everything including the kitchen sink, Andy Frost banging and making very silly noises … AND … Robert Rickenberg slapping a huge piece of wood.
a note ♪ from Larry –
…. your continued support is greatly appreciated by my creditors … so ….
please bring everyman (and woman), his (and her) mother-in-law, and his (and her) dog
no silly paper hats .. we promise …
The XMAS Jazz Special is live this year at a different hang-out – The Old Chelmsfordians – with a fully-licenced bar yippee! – we'll be bringing you more XMAS Jazz, seasonal cheer, some terrible great jokes
+ oodles of complimentary kisses and mince pies!
what are you waiting for? … "the only way to get rid of temptation is to give in !" (Oscar Wilde)